More than 50 years of trusted services to the excavation, construction and mining sectors.
We are experts in construction services, trucking, asphalt, excavation, water management, aggregates and fine grading. Our construction services include site work, road building, infrastructure, drainage, septic systems, and more.
As one of the largest and most diversified suppliers in the West Nipissing area, Ed Seguin & Sons is a high volume supplier of construction aggregate. Our long standing trucking services includes a new fleet and state of the art equipment.
Ed Seguin and Sons have broadened their services to the mining sector which include developing and maintaining mine sites, providing bulk sampling, custom portable crushing solutions and more.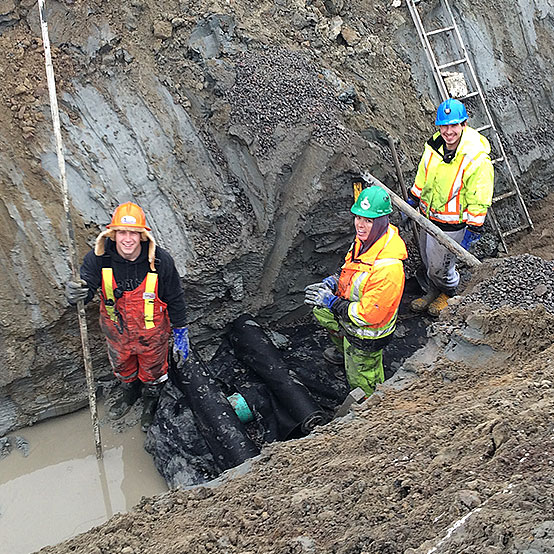 "We have worked with Ed Séguin & Sons on two projects now and I have found them to be very professional and helpful – from their office staff to their field staff. I have enjoyed working with them and look forward to our next project together."
Quarry Operations
Drilling
Blasting
Rock Breaking
Custom Crushing
Portable Crushing
Screening Services
Aggregates / Sand & Gravel
Bulk Sampling
General Contracting
Excavating
Site Work
Fine Grading
Landscaping
Asphalt Paving
Concrete Pads / Sidewalks
Brushing
Equipment Rental
Triaxle Rental
Floating  Services
Hydraulic Vac Truck Services
Snow Removal
Environmental Services / Contaminated Soil / Fuel Spill Rehabilitation
Weeping Tile / Foundations Waterproofing
Culvert Installation
Drain Installation and Maintenance
Water truck services
Structural concrete pads and sidewalks
Shoreline breakwater installation
Commercial and Residential Demolition
Road Building
Road Infrastructure Installation
Residential & Commercial Asphalt / Paving
Road Rehabilitation
Grading
Traffic Control Services
Erosion Control Services
Environmental Protection Services
All Season Access Road Installation and Maintenance

Mining Division
Civil Mining
Site clearing, development and maintenance
Pond construction and maintenance
Mineral handling and processing
Water & Sewer
Residential & Commercial Water & Sewer Hook Up & Installation
Live tapping
Septic System Design and Install
Storm draining system installation and maintenance