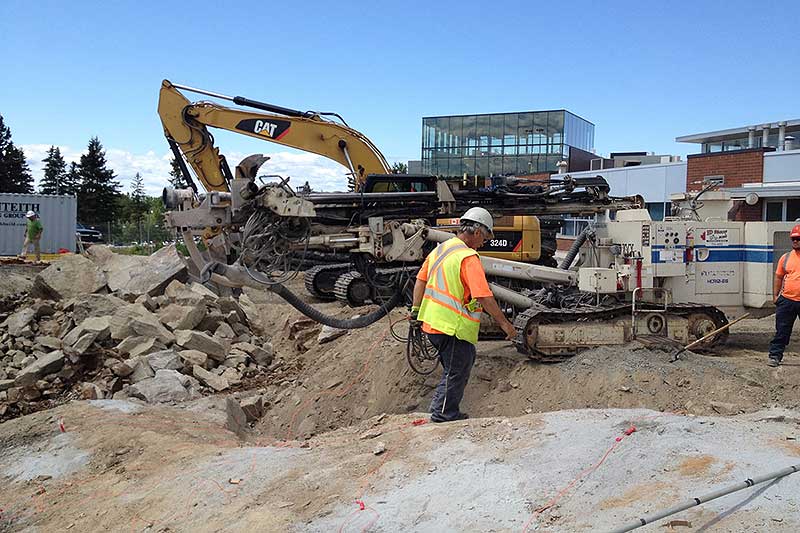 Drilling and Blasting
We provide drilling and blasting services by controlled use of explosives to break/remove rock to an accurate grade for building foundations, road grades, parking areas, and more. We also offer trench blasting for utilities and mass blasting for open pit mines and quarries. Our operators work in a safe manner and are capable of blasting near buildings and utilities while controlling and recording seismic activities. We can drill anywhere from 1" to 4" for different applications such as rock anchors, fence posts, and more.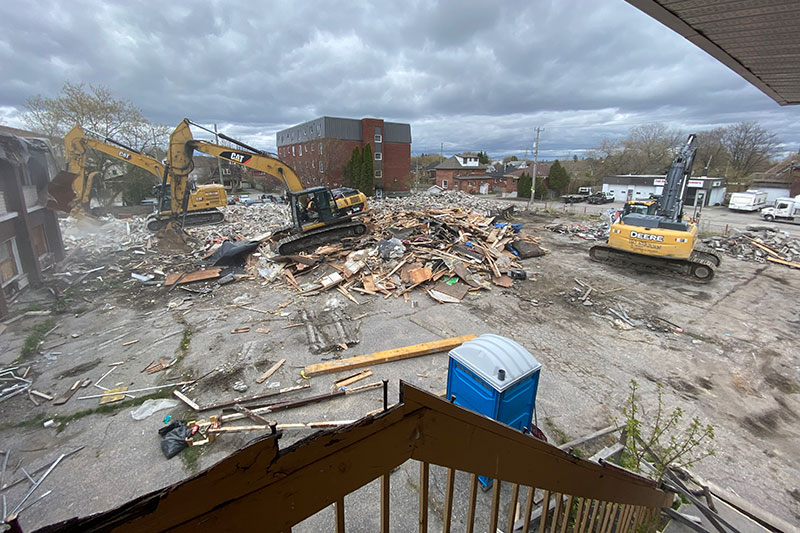 Demolition
Demolition if not planned and executed properly can be risky business. We're insured and are proud to have maintained and excellent safety record throughout the magnitude of demolition projects completed in the residential and commercial sector. We've now expanded our fleet of equipment and resources to optimize and promote recycling. We're also qualified and experienced in removing, handling and disposing hazardous and contaminated substances.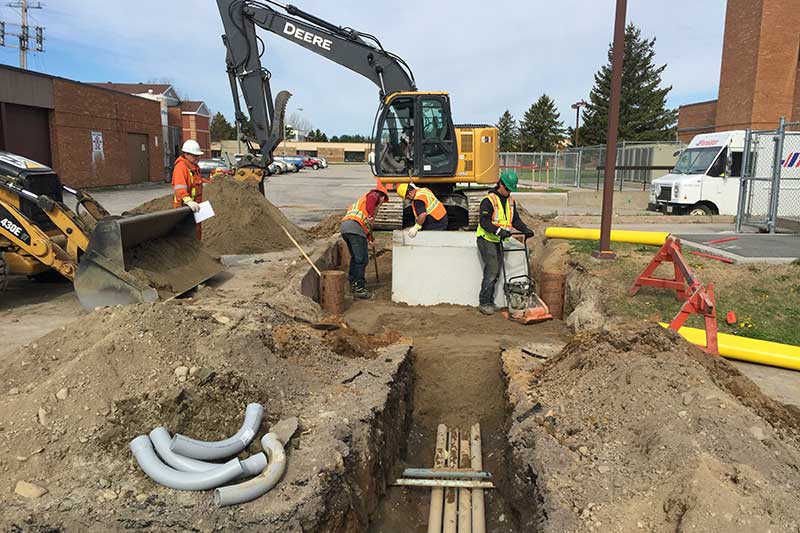 Underground Electrical
Many of the new electrical installation are underground versus the traditional pole and overhead services. We've successfully participated in many major underground electrical upgrade projects. Our services include everything related to the civil work such as excavation, pipe and precast concrete structure installation, backfilling and restoration. When we leave the job site it's clean and ready for the electricians to run they're cable and connect the power.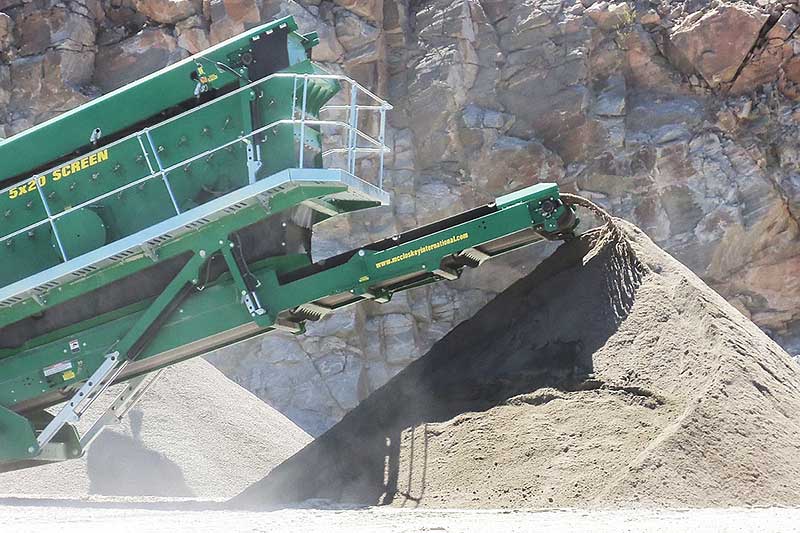 Crushing and Screening
We currently manufacture over 15 different types of construction aggregate materials ranging from fine sands to coarse granular, as well as clean top soil. All our materials are subject to quality control tests to insure you are receiving the highest quality product that meets provincial specifications. With our state of the art portable crushing and screening equipment, we can quickly and efficiently mobilize at your site to process your material – saving you time and money.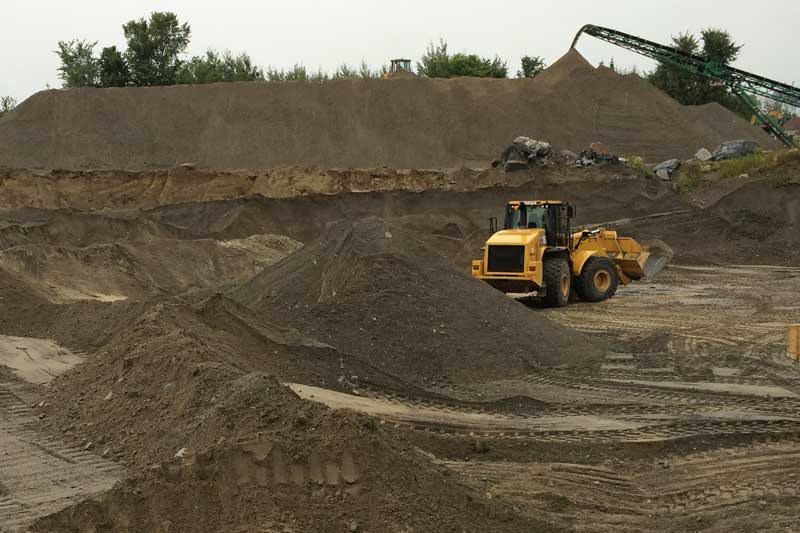 Bulk Sampling
Our bulk sampling service provides mineral-processing testing of your potential ore body. We're well equipped with our portable crushing spread – complete with a sampling tower and conveyor belts. Our system allows us to set up and start the bulk sampling process on the same day. Our staff and on-site workers are trained and experienced to assure accuracy throughout the sampling process.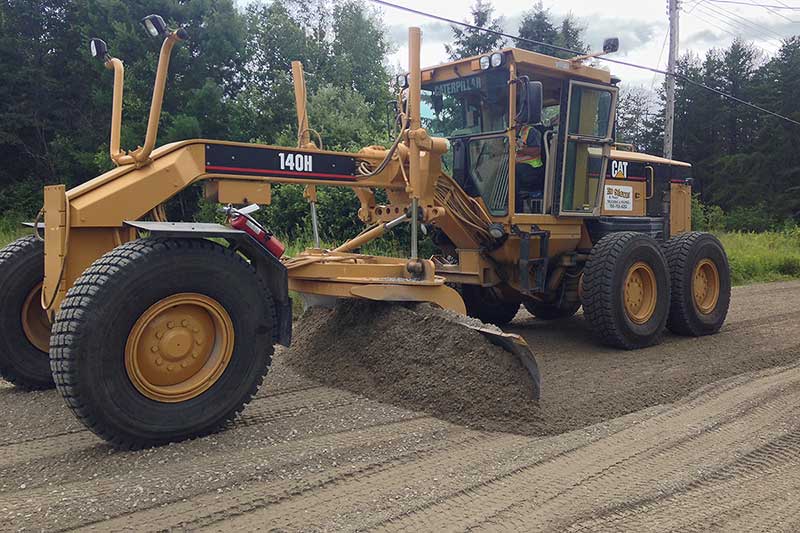 Road Construction
We're experts in road construction. No matter the challenge, we'll build a well-graded and solid roadway. We can design/build or construct it based on engineer specification. To keep costs low, we produce our own aggregates, own and operate all equipment in house and are actively utilizing gps equipment to effectively manage earth moving. We also install underlying road infrastructures such as water and sewer mains, services, man holes, pump stations, road drainage pipes, bridges and more. Whether it's to maintain or rehabilitate roads, build a driveway, parking lot, wilderness roads, winter roads or municipal roads. Make Ed Seguin & Sons your key contractor for a quality and cost-efficient roads built to last!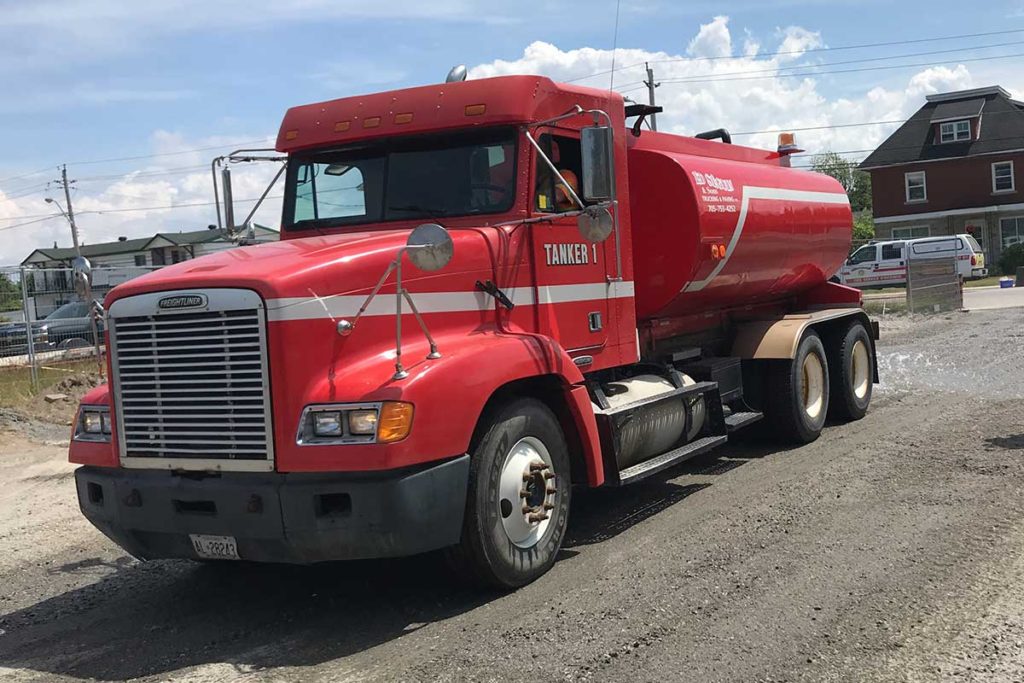 Water Truck Services
Our water truck is well equipped with a large reservoir tank and multiple portable pumps and hoses capable of filling up at any water course saving on travelling time. It can be utilized for dust suppression and to moisten the granular aggregates to obtain desired compaction results on roadways and job sites. The fire fighter style hoses and nozzle allows to control the trajectory of water to specific areas or to create a water fog.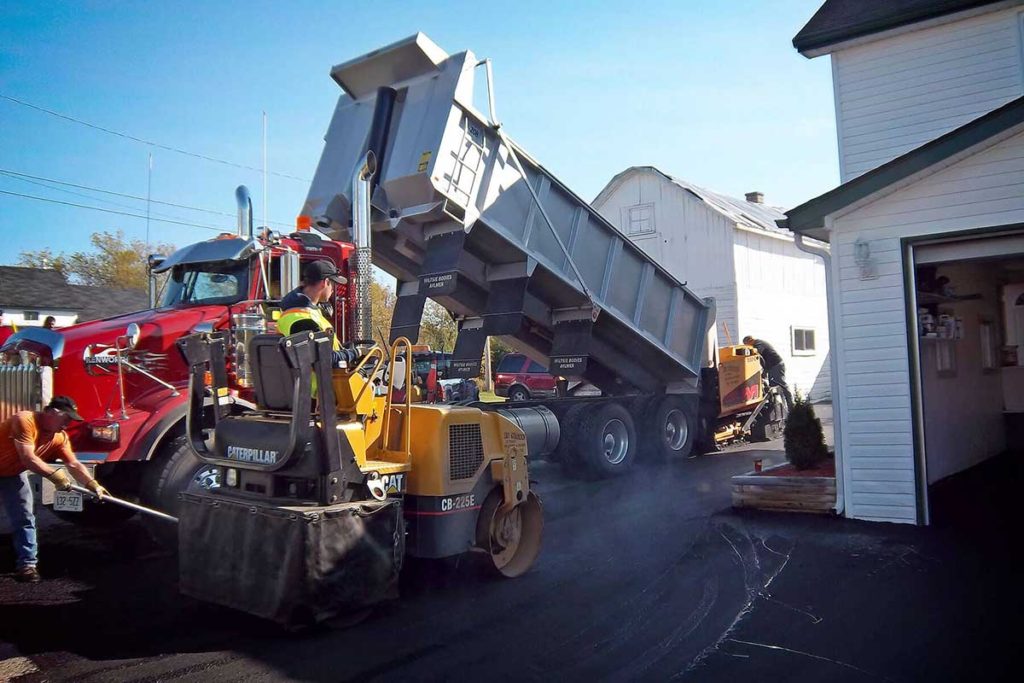 Paving
With over half a century of paving experience, to us this is more than a job, it's our signature, passion and tradition. We install asphalt for driveways, parking lots, roads, provide custom hand and machine work. We offer so much more than just a black top; our projects are of the highest quality and built to last. It all starts with good drainage and base. Our staff are trained experts in grading, sub-soil and granular-base quality. If you appreciate quality and want things done right than reach out to us to experience true pride of workmanship.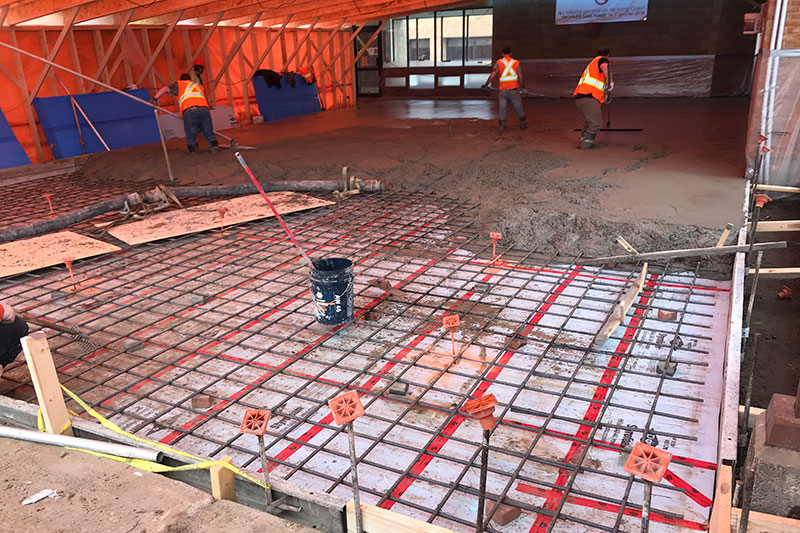 Concrete
Concrete is utilized in the construction industry for various applications, from foundations to walls to cosmetic applications. We provide services to both residential and commercial sectors which include concrete structural pads, sidewalks and curbs. We are able to provide cost efficient products because we have the equipment and experience to effectively excavate to native soil, supply, deliver and install the required base foundation, install the right frost protection, form and install the concrete with the right grade and finish.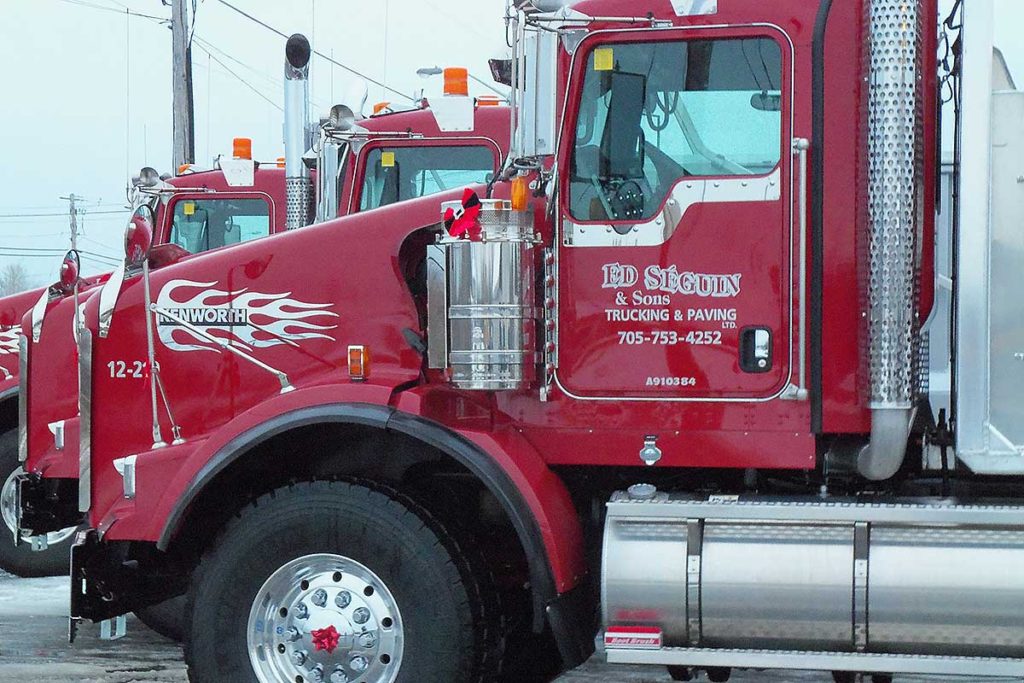 Trucking and Logistics
We have an extensive fleet of tri-axle, tandem and transport trucks to deliver materials and equipment. Our various transport floats include low beds and flat beds with special permitting capable of transporting wide, oversized and overweight loads. Various configurations allow us to transport heavier loads during the restricted load season when the spring break up occurs. We also have live bottom and belly dump trailers to transport aggregates in bulk and water trucks to suppress dust and provide on-site water solutions for compaction.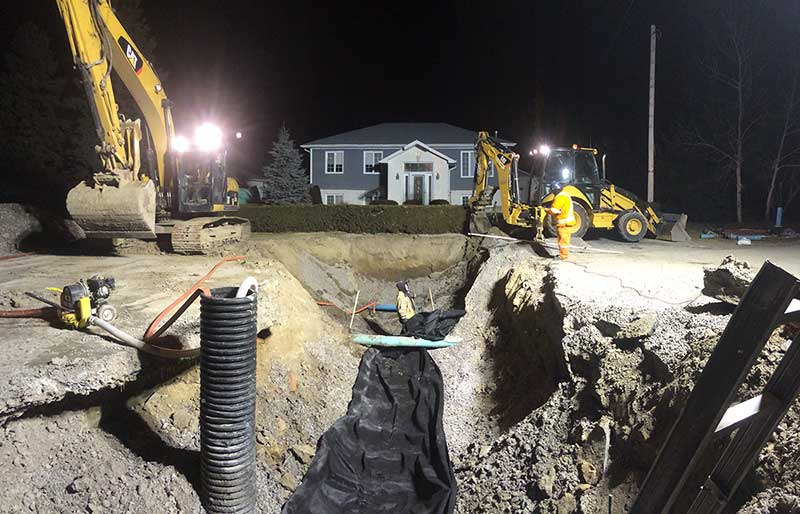 Water & Sewer Installation
Water and sewer services are a necessity in our everyday lives. While the city collects the water and treats the sewage, we install the distribution pipes and infrastructure to deliver fresh water to you and send sewage to the treatment plants. We safely excavate the roads to repair, replace and install underground pressure or gravity pipes, valves, catch basins and man holes. When building a new home, we excavate to the main lines, connect to them and bring the services to your building.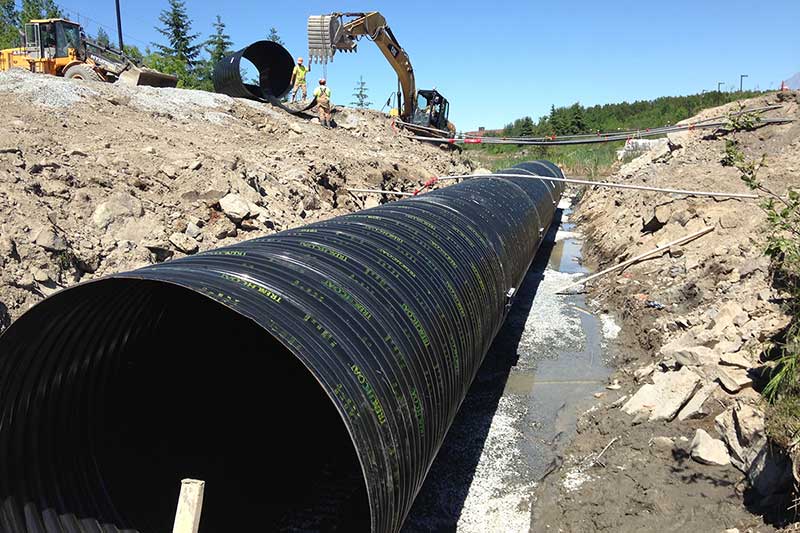 Storm drainage solutions, culverts, ditching, ponds
We take drainage seriously and have learned to master it. Improper drainage can lead to flooding resulting in infrastructure failure, foundation failures and crop losses. We provide drainage services including open ditching, underground piping, collection points, control points, pumps and ponds. We supply, install and maintain drains, culverts, pumps and underground storm piping system.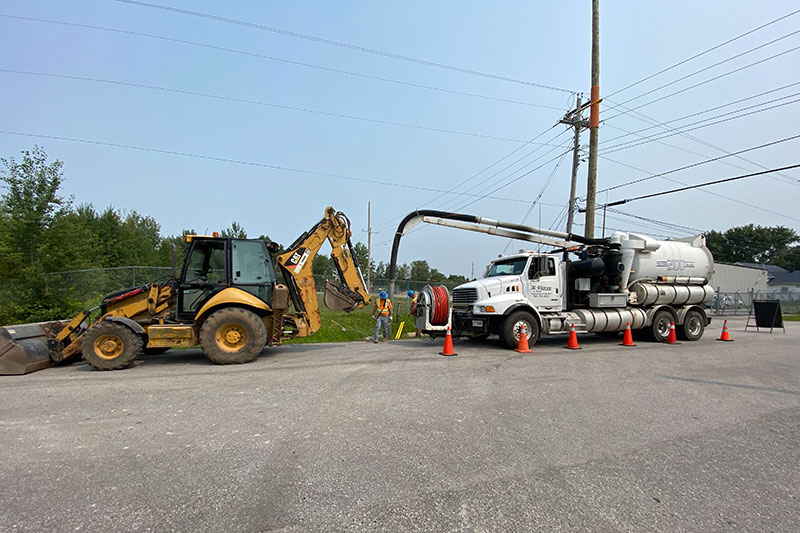 Hydrovac Services
Hydro-excavation is the safest method of excavation when locating underground services such as gas lines, hydro lines, fiber optic, and more. It effectively breaks up the ground with pressurized water while sucking up the loose material with the truck. Our hydrovac service also cleans underground pipes, man holes and catch basins.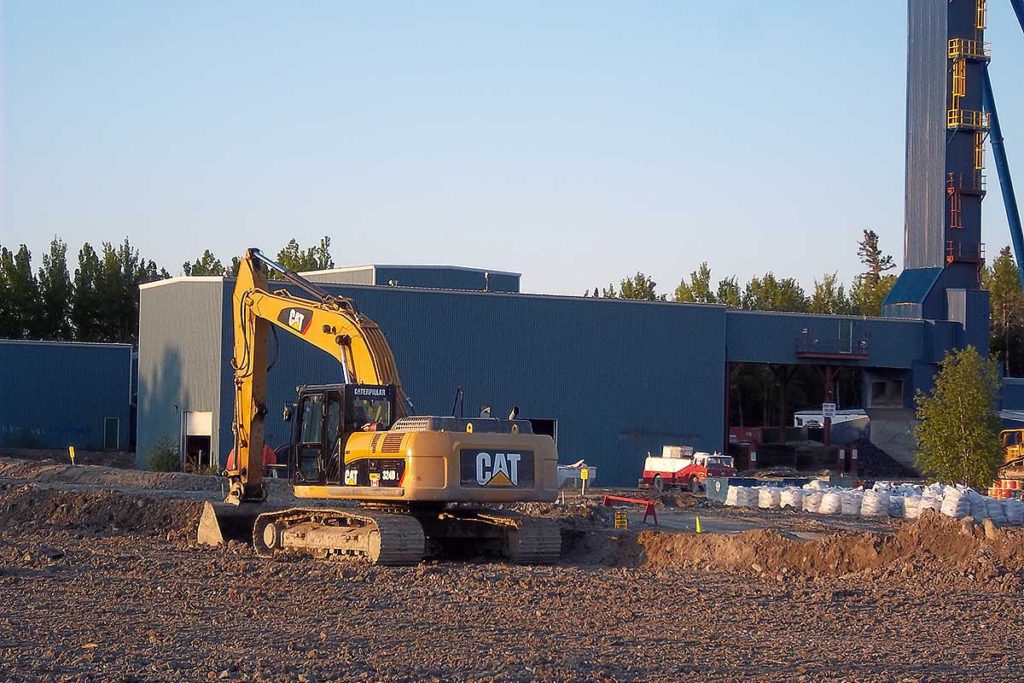 Mine Site Maintenance
We provide a full range of services required to maintain the surface of a mine site, including road and parking lot maintenance, grading, surface ore or waste handling/processing, material handling, equipment handling, pond maintenance and control, drainage, and more.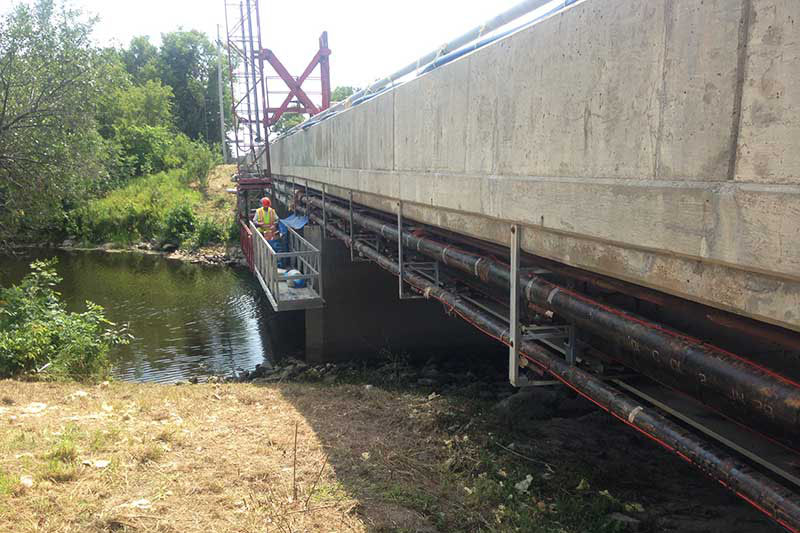 Bridge Rehabilitation
We have completed various bridge rehabilitation projects which include jacking and leveling, re-seating, abutment rehabilitation, re-decking, wing walls repairs and railing work.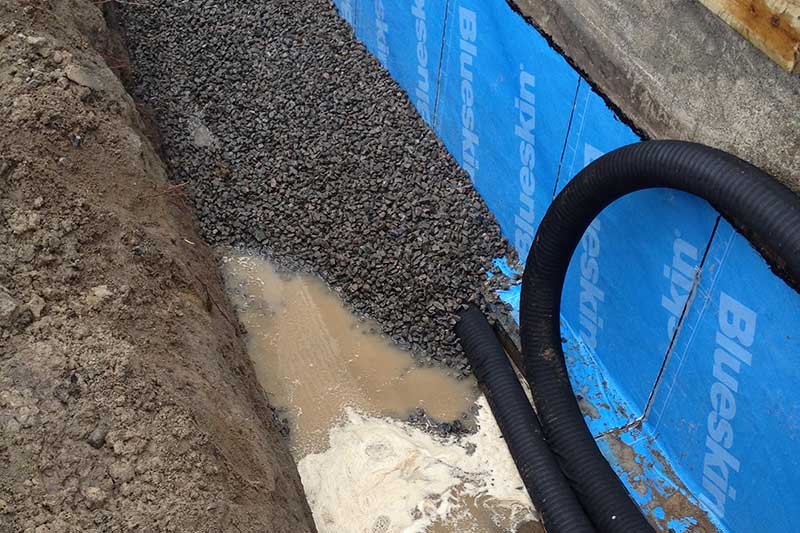 Weeping Tiles & Water Proofing Foundation
There are many reasons why water could be penetrating your foundation and flooding your basement. Rest assured that we will find the root cause and rectify your problem. Our service consists of excavate the perimeter of your foundation, inspect for visual damages and gather information to determine the cause of your leaky basement. We have the equipment and experience to flush your pipes, repair foundations, waterproof the foundation, install weeping tiles, sump pits and pumps. As landscaping professionals, we'll leave your property as good as new.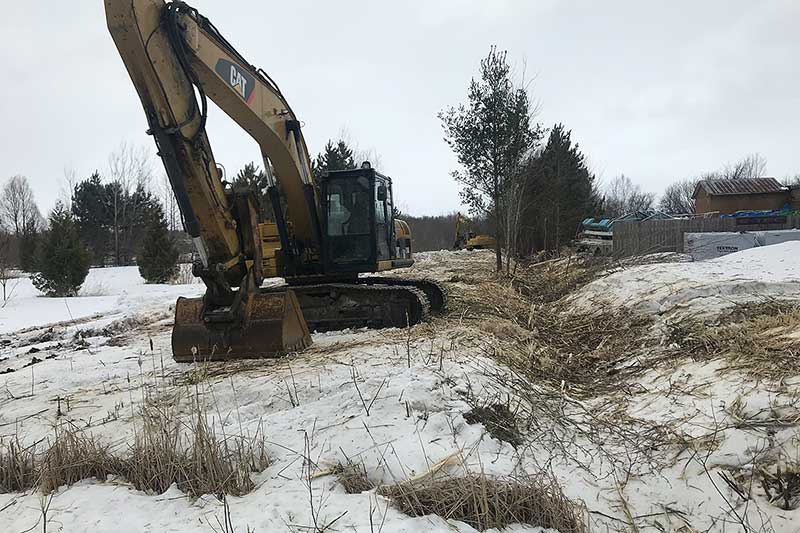 Brushing, Grubbing and Land Clearing
We utilize a brusher head attachment at the end of our long stick excavator to clean up properties for appeal and better use of land. The extra reach of the long stick makes it ideal for harder to reach places and faster completion time as the excavator spends less time moving around and more time brushing. Our brusher head is powerful and capable of brushing down trees up to 150mm in diameter.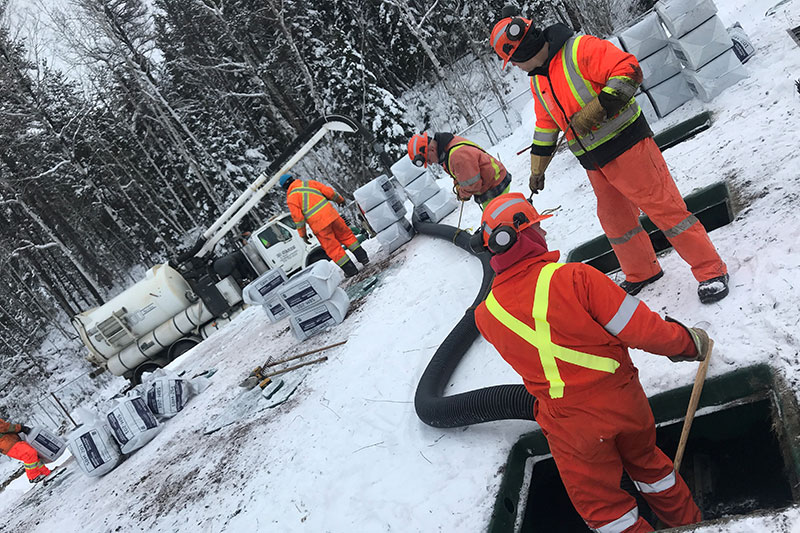 Septic System
We're highly recognized in the industry as professional large scale engineered on-site sewage system installers. Our experience includes installing, repairing and maintaining on-site sewage treatment systems for schools, provincial parks, mines, camp sites and commercial establishments. We step up to the plate for large scale, challenging and complex sewage treatment projects
Snow Removal
We have a large fleet of various sized plows, pick-ups, sanders, loaders and dump trucks for residential and commercial snow removal and ice control. We offer seasonal contracts and plow anytime there is 5cm or more of snow so you never have to worry about shoveling snow again!
"Over the last four years, the service, quality and communication has been very satisfactory. The level of safety is good, and cleanliness/housekeeping of job sites is consistent. All trades that occupy the area maintain a level of pride in their workplace. Pierre Jr. is a very calm and organized individual who has great people skills and maintains a positive attitude with his crews and customers. I see a bright future in his field of expertise."
"The project was pre-planned weeks before and they arrived on the planned date and completed the project quicker than scheduled. The overall quality of the work was as expected, if not better. The head office communication, information and test reports provided were swift and efficient. Overall, the project went smoothly and I commend the staff of Ed Seguin & Sons of their professionalism and work ethic and will refer them to anyone who is considering their services."
"It is an absolute pleasure to work with Linda and Pierre. They are amazing people. We are very happy with the work performed. They have a great team."
"Ed Seguin & Sons have gone above and beyond in every way possible tohelp NPL in our 2018 season. We appreciate all they did and look forward to doing business with them in 2019."